Apples in Takano
Takano-cho, which has been a special production area for apples since
prewar days, is located 500-600 meters above sea level, and its average yearly
temperature is around 10 degrees centigrade. These conditions are very suitable
for apples. Following Takano-cho (Shobara City), Tojo-cho (Shobara City) and
other towns are becoming new full-scale production places.
In 1909, the agricultural association of former Hiba-gun distributed twenty young
trees, without charge, to former Shimotakanoyama Village (Takano-cho,Shobara
City) to encourage fruit production.
Students of the Prefectural Shobara Vocational School (later Hiroshima
Prefectural Shobara Vocational Senior High School) first planted seven varieties,
including Iwai, Asahikogyoku, Golden Delicious, Indo and Kokko, on 5,000
acres of reclaimed land in the Shimonde area on the Takanoyama experimental
site in 1935. However, in 1940 the trees were transferred to local farms because
of the war.
Local farmers took over and eagerly continued to raise them. The orchards grew
to 12 hectares in 1959. Tsugaru of the early-ripening variety and Fuji and
Golden Delicious of the late-ripening types are the main varieties.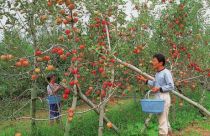 Photo
Advanced district for apple culture in Hiroshima.
Apples from here enjoy an established reputation for their taste (Photograph taken circa 1994)
Memo
There is a valuable research report about the Takano apple called "Research about the apple culture in Takano-cho, Hiba-gun, Hiroshima Prefecture (the first series)" written by Sakae Kajio, a teacher at the Takanoyama branch school of Shobara High School in 1960.
It explains in detail about the history, the relationship between climate and cultivation, the land conditions, the selection of varieties and the cultivation control concerning the apple culture in Takano-cho.
| | |
| --- | --- |
| Address | Tojo-cho and Takano-cho, Shobara City |