Kenmin no Mori (Hiroshima citizens' forest) and Tatara no Sato (refinery village)
Kenmin no Mori was created as a relaxation area for citizens and the base of
recreational activities for youth as part of the memorial projects of the Meiji
Centennial Anniversary by Hiroshima Prefecture. The forest is divided into
three sections: Rokunohara, Ikenodan, and Azuma Mountain. Most of the
facilities are in the Rokunohara district, including the control center, restaurant,
campground, forestry botanical park, ski slope and parkingt area.
A walking path up the mountain covers 60km in the forest. The course varies
from light hiking, requiring two hours, to climbing the length of the Hiba Mountain
peaks, requiring two days.
The Chugoku Mountain region, including Saijo-cho (Shobara City) and
Tojo-cho (Shobara City), contains a lot of quality iron sand. Therefore, many
tatara (refineries) existed there.
Eidai tatara was developed in the Chugoku Mountain district from the end of
the medieval era to the early modern one. It was superior to nodatara in terms
of durability and productivity. This district became an advanced site for iron
manufacturing techniques in Japan.
The Kanayago god, or Tatara Jizo, was worshipped at the tatara iron mill to
pray for success and safety. These types of tatara iron mills went on the decline
after the Meiji era because modern iron manufacturing methods came into
general use.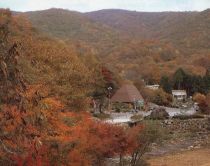 Photo
The Rokunohara district, kept in good condition; the remains of tatara are also preserved here (Photograph taken circa 1994)
Memo
At the foot of Hiba Mountain are the remains of the Rokunohara iron mill, in the Rokunohara section of Kenmin no Mori, and a hot spring. Further to the east from the Kenmin no Mori, Dogo Mountain rises. Located in the Hiba-Dogo-Taishaku Quasi National Park, it graces us with a panoramic view of the Chugoku Mountains and the beauty of the plateau.
The tatara iron manufacturing method is partly revitalized in former Yoshida Village (present Unnan City), Shimane Prefecture, and the traditional song "Tatara-uta" still remains. One refining cycle of tatara required a period of three to four days and nights, twelve to thirteen tons of charcoal and the power of eleven workers.
| | |
| --- | --- |
| Address | Saijo-cho, Shobara City (Kenmin no Mori) |
| Access | Take a train (Geibi line) to Bingo-Ochiai Station; from there a 20-minute travel by taxi. |
| Map | Click here. |