Izumo Road and Funo Juku (post town)
Entering former Funo Village (present Funo-cho, Miyoshi City) from Miyoshi
City by Route 54, travellers see the mountains suddenly open up before their
eyes. Not only the local people but anyone can feel that the appearance of
mountains and villages on the way relieves the boredom of a journey. The pristine
Funo Juku (post town) reminds us of journeys in the old days.
The Izumo Road has been a main route in the Chugoku Mountain region from
ancient times. During the Edo era, the inhabitants of Akana transported their
tax quota of silver and copper from the Omori silver mine to Funo via this
route. During the Meiji and Taisho eras, this road was bustling with carts
coming and going between Miyoshi and Akana.
The Izumo Road remains now, at every turn, as if the national road and the
Funo River have twisted together, and tells the history of olden journeys.
Travellers can touch the way people lived and the flavor of the old days in the
passes through the post town of Kami-funo, especially on the path crossing the
Akana Pass, though it has already been abandoned. The stone pavement, the
ruins of the border guardhouse, the border monument, a five-stone marker, and
the memorial cenotaph are scattered over the summit.
Dug through a mountain, the Akana Tunnel, with a length of 590 meters, was
completed in September, 1964. The former path to cross Akana Pass was
abandoned, the jizo (guardian deity) along the path was hidden behind the
grasses, and people scarcely cross the ridge today.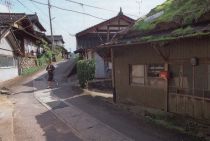 Photo
In the vicinity of Funo Juku, which reminds us of an ancient road (Photograph taken circa 1994)
Memo
Former Funo Village is the home town of Kenkichi Nakamura (1889-1934), a poet in the Araragi (coterie magazine) group, and Akiko Futaba, a singer. The scene of the story, Niguruma no Uta written by Tomoe Yamashiro, was based in this village.
Kenkichi was born as the son of a sake brewer at Funo Juku. When he was a high school student, he became a member of Araragi. He left many poems about his hometown.
| | |
| --- | --- |
| Address | Funo-cho, Miyoshi City |
| Access | Take a train (Geibi line) to Miyoshi Station; take a bus bound for Izumo Akana and get off at Funo; a 5-minute walk. |