Gionsan Festival in Hichi
Gionsan is an annual summer festival of Susa Shrine, which originated 1,200
years ago and is dedicated to Susano no Mikoto (a deity in Japanese mythology).
It is held for three days from the third Sunday of July, when people temporarily
stop agricultural work. It is a festival to pray for a good rice harvest and to wish
for work in good health.
The festival starts when 170 members of the Yano Shingi Group (important
intangible folk-cultural asset of the prefecture) from the sacred ceremony in
Joge-cho (Fuchu City) put on blue happi coats and visit the shrine playing gongs,
Japanese drums, and Japanese flutes. When Susano no Mikoto toured the
district, he is said to have entered Hichi in Konu-cho(Miyoshi City) by crossing
a ridge from Yano in Joge-cho (Fuchu City). The procession of Yano Shingi
symbolizes the entrance of the deity to the mansion and is carried out by imitating
the wedding ceremony between him and the deity Kushiinadahime.
After the Yano Shingi Group performs the soul-stirring beating of drums in front
of the shrine, the group, along with a children's mikoshi (portable shrine) and
large mikoshi symbolizing Kushiinadahime, an important cultural property of the
prefecture, proceed to Otabisyo Muto Shrine, which is about 100 meters from
Susa Shrine.
The present big mikoshi was made in 1517. At 1.3 tons, it is reportedly the
largest one in Japan. It is put on a stage with wheels, and visitors, both adults and
children, join hands and pull it with a thick rope. It goes back to the Susa Shrine
on the last day of the festival.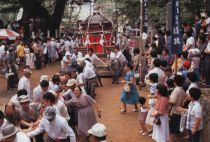 Photo
"Big summer festival", which is said to have a 1,200-year-old tradition (Photograph taken circa 1994)
Memo
This festival is the largest in this district and the street stalls stand side-by-side on the entrance path to Susa Shrine and on both sides of the road to Muto Shrine.
| | |
| --- | --- |
| Address | Susa Shrine, Hichi, Konu-cho, Miyoshi City |
| Access | Take a train (Fukuen line) to Konu Station and a 10-minute drive by taxi. |