Nanatsukahara Heights
The Nanatsukahara heights, a hilly area 340 meters above sea level, is a
mecca for improvement of dairy cattle and Japanese cattle.
In 1900, the Ministry of Agriculture and Commerce chose these heights for a
governmental livestock industry promotion base, establishing the National
Cattle Breeding Farm. They built the main building, some barns and silos on
the 120-hectare farm.
The main building is a two-story Western structure. Efforts were made to
introduce dairy cattle at the beginning, and by 1912, 360 cattle were being kept.
The farm became the base of the dairy industry of the prefecture.
What made Nanatsukahara famous were cherry trees and poplars planted on
the farm, and the pastoral scenery of the farm with its silos. One hundred thirty
poplars were planted along the stretch of the 150-meter road on the farm, and
cherry trees were planted along the field path starting from the main building.
Cherry blossom viewing was very popular during the Taisho era. The poplars
lining the street stood high and became symbols of the vast farm, attracting
many visitors.
In 1923, jurisdiction over the farm was moved to the prefecture. The main
building, built at the time of the farm's establishment, is now being used as
Nanatsukahara Memorial Museum.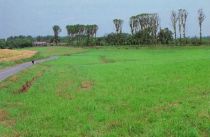 Photo
The poplars lining the road, the symbol of the farm (Photograph taken circa 1994)
Memo
Nanatsukahara is located in the middle of Bihoku Hills Park, and is a mecca of study centering on the livestock industry.
Both the border pine trees and the milestones were left untouched in a corner of the farm when the road was enlarged. You can see the ancient road and county borders of Mikami and Eso-gun, which are reminiscent of old times.
| | |
| --- | --- |
| Address | Nanatsuka-cho, Shobara City |
| Access | 3.2 kilometers from Yamanouchi Station, or 2.6 kilometers from Nanatsukahara Station (Geibi line), on foot from either station. |
| Map | Click here. |