Ueno Park
Ueno Park, where Shobara citizens can relax in any season, is located in a
basin approximately in the middle of the Chugoku Mountains. Ueno Park is
situated in a hilly area one kilometer to the southeast of the city. It was
constructed during the early Edo era, with Ueno Pond (4 kilometers in
circumference) situated in the center. The more than 2,000 cherry trees
surrounding the pond are splendid. This park is listed as one of the 100 best
places in Japan for cherry blossoms, and Shobara City can be proud of it as
"number one in western Japan". Early in April, at cherry blossom festival time, the
blossoms of all 2,000 cherry trees come into full bloom. Over 700 lanterns light
them. The blossoms and lights are reflected by rippling waves, which gives you an
unworldly and quiet beauty.
Various events related to nature are held throughout the year: azalea viewing
in May, fireworks by the lake in August, and the lakeside illumination in December.
Inside the park are the Hisagoyama Kofun (ancient burial mound) and a
monument for the local writer, Hyakuzo Kurata, surrounded by various kinds
of trees.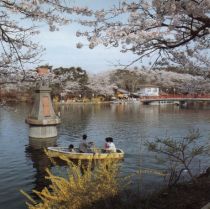 Photo
The most noted place for cherry blossoms in the northern part of Hiroshima Prefecture (Photograph taken circa 1994)
Memo
There are many kofun in Shobara. The Hisagoyama Kofun in the park, an ancient burial mound 36 meters in length and 4 meters in height, square at the head and round at the foot, comes from the middle of the Kofun era. A museum of literature built for the great writer from Shobara, Hyakuzo Kurata, stands nearby, exhibiting his manuscripts, letters, and other articles left by him or related to him.
| | |
| --- | --- |
| Address | Higashi Honmachi, Shobara City |
| Access | From Shobara Station (Geibi line), a 10-minute walk. |
| Map | Click here. |