The Gono River and Cormorant Fishing
The Gono River, the largest river in the Chugoku district, flows through
Yoshida-cho (Akitakata City) to join the Basen, Saijo and Kannose Rivers in
Miyoshi. Then it crosses the Chugoku Mountain region to enter Shimane
Prefecture and finally flows into the Japan Sea in Gotsu. Classified as a first class
river, it is 206km in total length, with a catchment area of 3,870 square
kilometers. Two-thirds of the catchment area lies in Hiroshima Prefecture. Since
Miyoshi is the point where the main stream and many of the tributaries join,
the area has often suffered from flooding.
The river basin is rich with natural scenery, especially the area between
Miyoshi and Gotsu, with its beautiful ravines and untouched scenic beauty.
Since the early days, the Gono River has served as the main artery of water
transportation that connects the Sanyo and the Sanin regions. In its heyday,
several hundred river barges navigated between Miyoshi, Kawamoto and Gotsu.
They carried merchandise from Miyoshi; iron, firewood and charcoal from
Kawamoto; and marine products from Gotsu. But not much is left to remind us
of those days, for the situation changed drastically with the development of
other forms of transportation, as well as through the construction of dams.
It is said that cormorant fishing in summer in Miyoshi has come to flourish
thanks to the efforts by cormorant fishermen. The trade has a tradition of 400
years.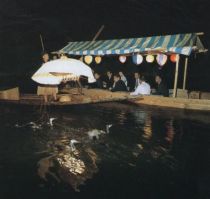 Photo
A night show on the river, where you can enjoy the skillful handling of reins by the cormorant fishermen (Photograph taken circa 1994)
Memo
The Gono River has a number of dams like Haji Dam. They serve in flood control and development of water sources.
| | |
| --- | --- |
| Address | Miyoshi City |
| Access | Tomoe Bridge: A 5-minute walk from Miyoshi Station (Geibi line). |