Taishakukyo Gorge
The Taishaku River has been flowing through the karst plateau in this area
for hundreds of millions of years, forming soaring walls, natural bridges, rapids
and falls.
An artificial lake created here in 1924 for hydroelectric power generation
provided a great change in the scenery. It added extra beauty to the scenery by
reflecting the white walls of rocks and the fresh green or autumn leaves in
various hues. It was in 1923, when Miyajima was designated as a national
special place of scenic beauty, that Taishakukyo Gorge was also given the same
designation. The name used in the designation was "Taishaku-gawa-no-tani"
(The Valley of the Taishaku River). It was designated as a prefectural park in
1935, then as Quasi National Park in 1963.
There is a historic old temple named "Eimyoji" in Kami-Taishaku (the
upstream area). The temple is dedicated to Taishakuten, which is said to be the
origin of the name Taishakukyo. About two kilometers downstream of Eimyoji
lies Onbashi (male bridge), a natural bridge made of limestone. A giant natural
bridge, 90 meters in length, 40 meters in height and 18 meters from the river bed,
this is a natural monument of Japan that can be called a wonder of the world.
A counterpart, Menbashi (female bridge), used to be seen near it but now is
submerged in the water of Jin-ryu-ko (lake of divine dragon).
The valley along the Taishaku River extends for 18 kilometers. A trail that
leads from there to Jin-ryu-ko downstream provides a wonderful hiking course.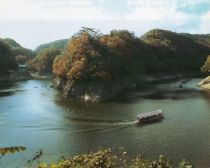 Photo
This type of ravine is peculiar to karst plateaus (Photograph taken circa 1994)
Memo
A little downstream of Eimyoji Temple in Kamitaishaku is situated Taishaku Local Museum. Hakuundo, a famous limestone cave, is located a little farther downstream. An extensive collection of natural specimens, materials on natural science, folk customs and archeology are collected and exhibited in the museum, starting from the Mawatari Iwakage remains, with a focus on Taishakukyo.
Address
Taishakumido, Tojo-cho, Shobara City
Access
Take a bus bound for the Shobara area from Tojo Station (Geibi line). Get off at Taishaku;
a 10-minute walk.
Map
Click here.