Ren-juku
Having returned home from his sixth study tour in Kyoto, Chazan Kan
opened a kajuku (a small private school) named "Koyosekiyou-sonja" at
Kawakita in 1781, to utilize its academic atmosphere for educating the villagers.
He offered the Fukuyama-han the school and its attached rice fields. The school
became the go-juku (attached school) of the han in 1796. The school has been
called the "Ren-juku" by people since then.
Chazan, a Neo-Confucianism (Zhu Xi) scholar, was excellent in poetry and
prose and famous for his achievement of editing the Fukuyama-Shiryo. He
managed the school with crops from the school's rice field. He would not charge
his pupils anything but actual expenses, such as food and book expenses, and
accepted the rich and poor alike. Pupils came from all over western Japan,
including the Fukuyama-han. Also, Sanyo Rai was one of the pupils.
On the premises, a waterway runs, and the lecture hall, dormitory and house
of Chazan remain as they were in the old days. Both the lecture hall and
dormitory are one-story houses with frame-tile roofs, and the house of Chazan
has two stories with frame-tile roofs. Because these are rare examples of local
educational facilities in modern times, they are designated as national special
historic sites.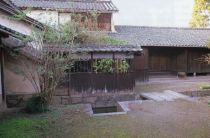 Photo
Sanyo Rai also studied here once (Photograph taken circa 1994)
Memo
Seibimeiku, the history of the Fukuyama district, was written solely by Shigeyo Umayahara (1762-1836), who was the mayor of Mukonagatani Village. It is said that, besides farming, he liked to read history books. The Juzo monument, constructed by pupils in 1831, when he was seventy, is designated as a historic site of the prefecture.
| | |
| --- | --- |
| Address | Kawakita, Kannabe-cho, Fukuyama City |
| Access | Walk 20-minutes from Kannabe Station (Fukuen line). Or take a bus bound for Ihara from Fukuyama Station (Shinkansen), get off at Kannabe Koko-mae and walk 4-minutes. |
| Map | Click here. |