Abuto Kannon (Abuto Goddess of Mercy)
Many people who travel by sea have worshipped at Bandaiji Temple, situated
at the tip of the Abuto Cape on the Numakuma Peninsula. Not only people
praying for safe sea travel but also women praying to be blessed with babies
and easy deliveries have worshipped at Kannon-do Temple (an important
cultural property of Japan), containing a stone figure of the Kannon with eleven
faces called the "Abuto Kannon", in the precincts of Bandaiji Temple.
It is said that long ago, when Jirouemon, a pious man who lived at Tomo, was
fishing in the sea near Abuto Cape, he caught a bright stone figure of Kanzeon
(Kannon) in his fishing net. He immediately consulted with the priest from
Bandaiji Temple to install the figure of Kannon on the cliff top of Abuto Cape.
The story was much talked of by people and heard by Motonari Mori, who built
the splendid Kannon-do Temple in 1570.
It was repaired several times as the "guardian god of the sea" by feudal lords
of the Fukuyama-han, including Mizuno in the Kanbun era (1661-1673) and
Abe in the Anei era (1772-1781), and still exists today.
Kannon-do Temple is located on a wall on a cliff, 20 meters high, overlooking
the sea. A steep-sloped corridor runs from hojo to kakujo, where the vermilion
temple and the blue of the sea form a perfect unity.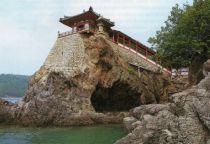 Photo
The vermilion-lacquered Kannon-do, towering on the cliff (Photograph taken circa 1994)
Memo
Bandaiji Temple is said to have been founded by retired Emperor Kasan in 992 and reconstructed in the Muromachi era. The do-u (the main building) was later completed by Terumoto Mori. Kannon-do has been designated as a national important cultural property, and the kyakuden is designated as a important cultural property of the prefecture. Bandaiji Temple is the thirty-third fuda-sho (charm-place) of Bingo-Saigoku and the twenty-fourth fuda-sho of Setonaikai-Kannon-Reijo (pilgrimage). Michio Miyagi mentioned in Tomo-no-tsu that he had turned his ship for the shore especially to pray at the Kannon-do when he traveled nearby.
| | |
| --- | --- |
| Address | Notohara, Numakuma-cho, Fukuyama City |
| Access | Take a bus bound for Abuto-guchi from Fukuyama Station (Sanyo line), get off at the last stop and walk for 10-minutes. |
| Map | Click here. |