Persimmons of Sugano
Known for its skewered persimmons, the Sugano area is located on sunny,
airy tableland, 250-300 meters above sea level, where the temperature varies
considerably between day and night. Fall comes early in Sugano and it becomes
fairly cold in early winter, making the climate ideal for drying persimmons.
Persimmons are traditionally grown at every house in Sugano and many houses
have produced dried ones. It is reported that the feudal lords of the area also
encouraged the production of dried persimmons.
Jyogan and Aogaki are two of the main varieties of persimmon grown there.
They are relatively small, but grow uniformly and produce solid harvests
yearly. After World War II, persimmons of the Shikoku region started to be
brought in too, since the local harvest was insufficient to meet the demand.
The persimmons, harvested from late October to late November, used to be
peeled manually. The skilled peelers were so quick at their jobs that there is
a familiar saying, "While tossing up a persimmon, another peeling is done." A
peeling machine was invented after World War II.
After being sun-dried for half a month, half-dried persimmons are flattened
and dried again. The finished product of dried persimmons is shipped to as
many as 30 markets, including Osaka.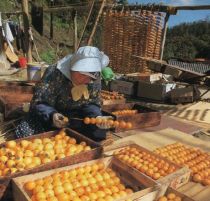 Photo
The skewered persimmons of Sugano are also well-known as lucky decorations (Photograph taken circa 1994)
Memo
Skewered persimmons were first made in the late 1920's. A bamboo skewer has ten peeled persimmons, six (mutsu) in the middle with a space between them and the two (niko) on each end of the skewer. Skewered persimmons are tied together with a rope, like a bamboo shade, and then are hung up high to dry.
For decorations during the New Year, these skewered dried persimmons are aptly named Niko-niko Kushigaki, or Smiling Skewered Persimmons. The name was inspired by a lucky phrase, "Smiling (niko-niko) outside, friendly (mutsumajiku) inside."
| | |
| --- | --- |
| Address | Mitsugi-cho, Onomichi City |
| Access | From Shin Onomichi Station of the Sanyo Shinkansen, take a bus bound for Mitsugi-cho and get off at Ichi Eigyosho. A taxi is recommended from there. |