Mitoshiro Kofun (ancient burial mounds)
The area of Minamigata, Hongo-cho (Mihara City) along Route 2 is one of the
elaborate valleys located in the drainage basin of the Numata River. The foot of
the hills overlooking the valley is dotted with valuable kofun (ancient burial
mounds) built in the latter half of the Kofun era. Starting from the end of the
valley, the house-shaped stone coffin of Minamigata Shrine, the First Sadamaru
Kofun, the Second Sadamaru Kofun, Mitoshiro Kofun and Baikihira Kofun can
be found. Baikihira Kofun has one of the largest corridor-style stone chambers in
Hiroshima Prefecture. Other kofun of the same type with a chamber, in which
a house-shaped stone coffin is placed, including Tamariya Kofun (Mihara City),
are also concentrated here.
Mitoshiro Kofun, which is supposed to have been excavated in 1895, features
two house-shaped coffins. Both the chamber and the coffins are made of cut
granite stones. The chamber is about 10.8 meters long. The genshitsu (the
chamber containing a coffin) is divided into front and rear chambers by two
stone posts centered to the left and right, which support the magusa-ishi(stone
beam). Each of the chambers contains a hollowed out house-shaped stone
coffin. These coffins have no decorations, such as projections to tie ropes to.
The Mitoshiro Kofun yielded earrings, metal fittings for saddles, uzu and tsuji
metal fittings and various Komochi-sueki earthenware. The stone coffins of
Mitoshiro Kofun are made of hard granite, so they can be easily distinguished
from other regions' kofun made of Tatsuyama stone.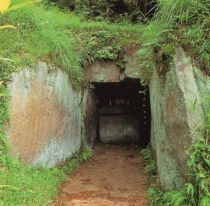 Photo
Rare kofun containing two stone coffins (Photograph taken circa 1994)
Memo
Mitoshiro Kofun, containing two house-shaped stone coffins, was designated a national historic site in 1933. The materials unearthed are owned by the National Tokyo Museum.
| | |
| --- | --- |
| Address | Minamigata, Hongo-cho, Mihara City |
| Access | A 60-minute walk from Hongo Station (Sanyo line). |