Cultural Zone around Fukuyama Castle
The Fukuyama Museum of Art, the Prefectural Museum of History at the old
sannomaru (part of the castle) site, and Bingo-Gokoku Shrine to the north of the
castle form a cultural zone surrounding Fukuyama Castle in Fukuyama Castle
Park. Conveniently located within a few minutes' walk from Fukuyama
Station, very popular in the prefecture, and crowded with many people, this
city-type cultural zone formed in Fukuyama.
Fukuyama Castle is located in the center of the cultural zone. The inside of
the tenshukaku (donjon) is utilized as the Fukuyama Castle Museum, preserving
the cultural heritage of the Edo era.
The Fukuyama Museum of Art, opened in 1988, is a local-based museum of
art, collecting and exhibiting excellent works of modern and present day artists
related to the Bingo region. The adjoining Prefectural Museum of History,
opened in 1989, was devised to restore and exhibit Kusado Sengen-cho, the
medieval town, in full-size, so that the life and culture of that time can be easily
understood.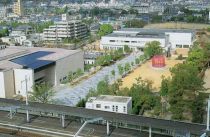 Photo
New cultural base in the east of Hiroshima Prefecture (Photograph taken circa 1994)
Memo
Seven Fukuyama museums with special characteristics include the Municipal Fukuyama Castle Museum, Fukuyama Museum of Art, Hiroshima Prefectural Museum of History, Nihon Hakimono Museum (Japan Footwear Museum), Tomonoura Museum of Historical Folklore Materials, Nakagawa Museum of Art and Fukuyama Auto and Clock Museum. In addition, Fukuyama City has many facilities utilizing nature and history, such as the "Rose Park", fascinating visitors as a cultural city.
| | |
| --- | --- |
| Address | Marunouchi-cho, Fukuyama City |
| Access | Walk 5-minutes from Fukuyama Station (Sanyo line). |
| Map | Click here. |