Hakimono (footwear) Museum
The Nihon Hakimono (Japanese footwear) Museum Foundation was the first
museum for footwear in Japan. Establishment of the museum was a memorial
project for the centennial of the Maruyama Co., Ltd. in May, 1977.
Production of wooden clogs was initiated by Mosuke Maruyama in 1878. His
business developed into one of the major industries in the town of Matsunaga,
and grew to become the leading footwear company in Japan. The museum was
constructed, utilizing the estate and buildings of the old wooden clog factory, to
collect, exhibit and study the materials used in footwear. In the museum, a
62-square-meter tenement house for workmen is also reconstructed. In the
interior garden, the Ashiato (footprint) Square designed by Taro Okamoto
pleases visitors with its original design.
Main exhibition themes include the following: Labor and Footwear, Strange
Footwear, Footwear Found in Sculptures and Pictures, Present-Day Life and
Footwear, Fitness Footwear, World Footwear, Wooden Clogs from Various
Parts of Japan, Producing Wooden Clogs and an exhibit of One Hundred Years
of Footware History.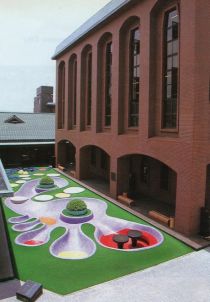 Photo
A footprint of strange design catches people's eyes (Photograph taken circa 1994)
Memo
The grave of the benefactor at Matsunaga, Sigemasa Honjo, is in the precinct of Jotenji Temple and is designated as a historic site by Hiroshima Prefecture. His bronze statue stands in the square behind Matsunaga Station.
| | |
| --- | --- |
| Address | 4-16-27, Matsunaga-cho, Fukuyama City |
| Access | Take a train (Sanyo line) to Matsunaga Station. A 5-minute walk. If you drive, go southwards 200 meters from the guide board on Route 2. |
| Map | Click here. |