Tomo Area
Tomo no Ura, the port of Tomo, had long been an important harbor. It was
even mentioned by the poet Tabito Otomo in Manyoshu, the earliest extant
collection of Japanese poetry. Located 14 kilometers south of Fukuyama
Station, the port is also a famous scenic spot in the Seto Inland Sea National
Park. "Haru no Umi" (Sea of Spring), a well-known koto music piece composed
by Michio Miyagi (1894-1956), was inspired by the beautiful scene of the calm
sea dotted with the islands. Viewed from the south side of the spacious hall of
Taichoro (built in the Edo period), the guest house attached to Fukuzenji
Temple, the sunset over the small islands in the distance from Tomo no Ura is
especially beautiful.
Displayed at Taichoro is calligraphy by a Korean envoy, I-pan-on, which
reads, "Tomo no Ura is the No. 1 scenic spot in the eastern country of Japan."
Tomo abounds with historic ruins, artifacts, cultural properties and legends.
They include a stone tablet of haiku poet Basho Matsuo, remnants of the Tomo
government of Shogun Yoshiaki Ashikaga and the head mound of Shikanosuke
Yamanaka. Small lanes and alleys in Tomo have been kept unchanged, and
they make visitors feel in touch with the past.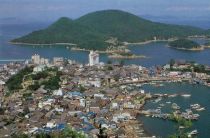 Photo
"The No. 1 scenic spot in the eastern country of Japan", Tomo no Ura was praised by a Korean envoy for its beauty (Photograph taken circa 1994)
Memo
There are also several historic temples and shrines in Tomo. The Ankokuji Temple of the Rinzai Buddhism Sect was rebuilt by Shogun Takauji Ashikaga. The Buddha Hall at the temple is a designated important cultural property of Japan. Nunakuma Shrine is cited in the Code of Engishiki (967) and is known for its old Noh play stage, which is among the designated important cultural properties of Japan.
| | |
| --- | --- |
| Address | Tomo, Tomo-cho, Fukuyama City |
| Access | From Fukuyama Station on the Sanyo Shinkansen, take a bus bound for Tomo and get off at Tomo no Ura. |