The Remains of Kusado Sengen-cho and Myooin Temple
The remains of Kusado Sengen-cho were found buried in the lower reaches of
the Ashida River. From the late Heian to the Kamakura period, buildings, wells
and ditches spread from the center to the west side of the sand bar. From the
Nanbokucho (14th century) to the early Muromachi period, buildings, wells, pits
and ditches spread all over the sand bar. The town of Sengen-cho, zoned with
paved roads, fences and ditches, was in its prime during the late Muromachi
period. In the early Edo period, the town was swept away by a flood.
A variety of household utensils and tools found there illustrate daily life in
the medieval era. Some 4,000 wooden cards written in Chinese ink are valuable
items from the excavations because of their close relation to business transactions
of those times.
In the medieval era, Richizan Jofukuji Temple was in the present territory of
Myooin Temple. When the Mizuno clan came to reign in the Fukuyama area,
they designated Myooin as the official temple for prayer. Thus, the temple
name of Jofukuji was abolished and replaced with Myooin. The Main Hall of
the temple and the Five-story Pagoda are both national treasures. The former
was rebuilt in the eclectic style in 1321, and the latter was built in the Japanese
style in 1348.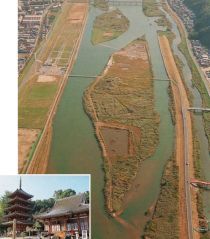 Photo
The Main Hall of Myooin and the Five-story Pagoda are designated national treasures.
The newly excavated remains of Kusado Sengen-cho (Photograph taken circa 1994)
Memo
There are several pagodas built of wood in Hiroshima Prefecture. Five-story pagodas are at Myooin (built in 1348) and at Itsukushima Shrine (built in 1407), while three-story pagodas stand at Tenneiji Temple (built in 1692; originally built as a five-story pagoda in 1367) and Saikokuji Temple (built in 1429), and Kojoji Temple (built in 1432) in Onomichi. Tahoto (two-story pagodas) can be seen at Jodoji Temple in Onomichi (built in 1329), Itsukushima Shrine (built in 1523), and Mitaki Temple in Hiroshima City. The pagoda at Mitaki Temple was first built in Wakayama Prefecture in 1526 and was moved to the present site in Hiroshima in 1951.
| | |
| --- | --- |
| Address | Kusado-cho, Fukuyama City |
| Access | From Fukuyama Station (Sanyo line): To Kusado, take a bus bound for Tomo no Ura and get off at Kusado Ohashi. A 5-minute walk. To Myooin, take a bus bound for Sennen-bashi and get off at Myoodai Iriguchi. |