The Remnants of Suigun (naval forces)
Innoshima City once was the home of the Murakami suigun (naval forces). In
the city, there are more than ten ruins of forts, which were originally castles of
the suigun. These buildings were centers of suigun activities, and unlike the
magnificent castles in later periods, they were simply built with walls of piled
stones.
Aokage Castle was at the top of Mt. Aokage (277m), on Innoshima Island. It
was the main castle for the suigun, and its remains can still be seen today. From
the top of Mt. Aokage, the Murakami clan's territory can be observed.
At the eastern foot of Mt. Aokage, Konrenji Temple and the Suigun Museum
are located. The former was the family temple of the Murakami clan, and the
graves of the clan are there. The latter, a relatively new construction, is also
called Suigun Castle. Along the east coast, there are ruins of many castles.
Aoki Castle (the last bastion of the Murakami clan) can be seen to the north.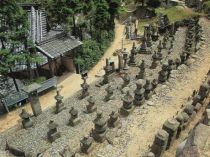 Photo
The graveyard of the Murakami clan at Konrenji Temple (Photograph taken circa 1994)
Memo
On Innoshima Island is a portion of the Shikoku pilgrim route (84km), where pilgrims can visit "the 88 holy places". It attracts pilgrims from both Okayama and Yamaguchi Prefectures, as well as from neighboring islands.
Legend has it that a pilgrim monk, given a ride from Shikoku by a fisherman arrived on Innoshima and transformed into 88 monks. Inspired by the legend, all the towns and villages got together to build holy monuments. The pilgrimage route is also recommended by the city as a convenient hiking course to visit remnants of the suigun era.
Address
Mitsunosho-cho, Onomichi City
Access
From Onomichi Station (Sanyo line), take a bus bound for Habu Port and get off at Habu Port; then transfer to a bus bound for Mitsunosho and get off at Mitsunosho Shogakko-mae;
a 30-minute walk.
Map
Click here.