Walk of Literary Artists
Film director Nobuhiko Obayashi from Onomichi gives his impression of the
place as matching the juvenile heart. Although rapid economic growth
standardized life on the Japanese archipelago, he says Onomichi has firmly
persisted in keeping a boy's heart. You can experience this feeling, once
you tread the slopes and stone-paved steps which have developed on the sloped hillside. Onomichi is a town of beautiful mountains, sea and boyhood dreams which are concealed beyond the paths.
Many scholars and artists stopped by, and prominent literary figures stayed
and produced various works. In 1912, Naoya Shiga wrote Kensaku Tokito,
which underlay his masterpiece A Dark Night's Passing. He also wrote a short
novel, Seibei and Gourds, in which a boy's innocent heart has been hurt by
grown-ups who do not notice the values discovered by the boy.
Fumiko Hayashi spent her sensitive period from 1916 to 1922 in Onomichi. A
tanka poet, Kenkichi Nakamura from former Funo Village, Futami-gun, ended
his life of 46 years at a temporary residence in Onomichi in 1934.
Lines from literary works written by literary artists, such as Suiin Emi and
Isamu Yoshii, who have some connections with Onomichi are engraved on 25
monuments along the promenade in Senkoji Temple Park.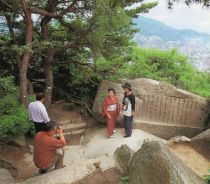 Photo
A series of literary monuments connected with Onomichi (Photograph taken circa 1994)
Memo
There are many celebrated people from Onomichi, such as political critic Kotatsu Fujiwara, former Olympic swimmer Nobutaka Taguchi and sculptor Isamu Yagata.
There are many writers, too. Michiko Yokoyama, born in Onomichi in 1895, wrote Midori no Chiheisen (Green Horizon). Others include Toshiro Ishido, scenario writer; Genyo Takahashi, born in Matsue and brought up in Onomichi; and Genichiro Takahashi, who won the first Yukio Mishima prize.
| | |
| --- | --- |
| Address | Onomichi City |
| Access | Take a train (Sanyo line) to Onomichi Station and take a bus to Nagae-guchi; take the ropeway to the hilltop. |