Time-honored Temples and Onomichi Channel
"Onomichi-urae Byobu", a picturesque folding screen of the Onomichi seashore
drawn in the mid-Edo era, depicts accurately the characteristics of the town of
Onomichi. The narrow Onomichi Channel, running for 6 kilometers east to west
between the mainland and Mukaishima Island, has been a good natural harbor.
You can see the roofs of warehouses, local people's houses jammed up to the
coastline and a red-painted hall that looks like the main hall of Senkoji Temple on
a hill. Four people in the hall are applauding the splendid view of Onomichi
Channel.
Onomichi has been a port town, a temple town and a tourist town since its
earliest stages. In ancient times, envoy ships to China (T'ang) harbored in the
port. In 1168, it became a storage place for Otanosho (now Sera-gun) and later
developed into a trading port dealing with China (Ming).
Many temples were founded and reconstructed by wealthy local merchants in
Onomichi. Jodoji Temple, where Takauji Ashikaga prayed to win the war, was
rebuilt by the magnate Koa. We are able to find in documents the names of
Doen and Dokei, who came from Onomichi and built Tenneiji Temple with a
magnificent three-story pagoda.
Nowadays the time-honored temple touring course has been completed as a
stone-paved lane. The 2.8 kilometer course connects 25 temples from Jikoji
Temple near Onomichi Station to Kairyuji Temple.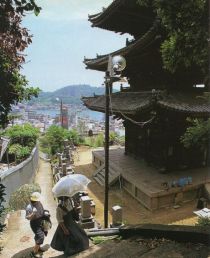 Photo
An alley leading up to Senkoji Temple.
On the right, the three-story pagoda of Tenneiji Temple (Photograph taken circa 1994)
Memo
Onomichi also had a road, called Sekishu Road, that led to the Sanin region. It was used to transport silver from the Iwami Omori Silver Mine, which belonged to the Tokugawa feudal government. Nagae-dori Street is the end of the road, heading north from the center of the city. A landmark with "Turn left to Izumo district" engraved on it remains.
The Onomichi of the medieval era is sleeping underground in the center of the city, where trade goods of different districts, such as pottery and porcelain, have been discovered.
| | |
| --- | --- |
| Address | Onomichi City |
| Access | Take a train (Sanyo line) to Onomichi Station. |