Yassa Matsuri Festival
Along with shamisen (a three-stringed musical instrument), taiko (a drum) and
cheerful accompanying music, dancers clad in yukata, simple summer kimono
made of cotton, continue dancing wildly. Shouting, "Hah yassa, yassa", groups
of dancers move by, one after another: dancing legs and hands that weave their
way through the crowd; sweating youths, intoxicated with dancing; maiden
groups with exuberant gestures responding to the sound of the powerful beating
drums. Highlighted dancing on summer nights lasts, knowing no end. Shouts
of "Yassa, yassa" surround the castle town until midnight.
Yassa Odori dancing, one of the prominent forms of traditional summer
entertainment in Hiroshima Prefecture, is held as a three-day pageant in August
every year, the last day being the second Sunday. The origin is not clear, but
it is said that the songs belong to Haiya-bushi folk songs. It is possible that
Haiya-bushi, sung at port towns, spread and became Yassa Odori. The dance
has been influenced by characteristics of Nenbutsu Odori, sutra chant dancing,
too. When Takakage Kobayakawa built Mihara Castle in 1567, the town
people are said to have danced, celebrating its completion.
Although gestures of Yassa Odori were arranged and established after World
War II, people danced freely and wildly as they liked before the war. Yassa
Odori was presented in Mihara-shiko, a local history written in 1819.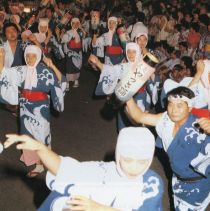 Photo
Yassa Odori, a freely improvised dance (Photograph taken circa 1994)
Memo
Since 1970, when Mihara Yassa Odori appeared on the stage of a festival plaza at Expo '70 held in Osaka, it has been recognized across the country. It also rapidly gained more popularity after a group formed to preserve the dance went on excursion to introduce it to the U.S. Yassa Matsuri, along with Shinmeisai in spring, gained the designation of citizens' festival.
| | |
| --- | --- |
| Address | In front of Mihara Station and vicinity |
| Access | Take a train (Sanyo line) to Mihara Station. |