The Kaidenma Race
Former Higashino-cho (present Osakikamijima-cho) is located in the northern area of Osakikamijima Island. There are liners between Shiramizu of former
Higashino-cho and Takehara City, which constitute an important source of
transportation connecting the island town to the mainland. Sumiyoshi Shrine is
located in Furue, a little north of Shiramizu. The summer festival of the shrine is
held on June 29 of the lunar calendar, featuring the Kaidenma barge with oars
race.
The barge race has been held since the completion of Sumiyoshi Shrine in
1827. The shrine, which branched out from Sumiyoshi Shrine in Osaka late in
the Edo period, is dedicated to prayer for prosperity of the marine transportation
business.
The race is completed with the first barge rowed up on shore winning.
Toward the night, the five barges are decorated with lights and then are
towed back home, accompanied by court music. It is a graciously beautiful
sight reminding us of the triumphant return of suigun (naval forces).
The size of a barge must be 12 meters long and 1.8 meters wide. Seven oars
are fixed on each side. A barge accommodates 18 members, including 14
rowers, a chief bargeman, a drummer, and cheering children (their gestures are
called Daifuri and Kengaifuri). Each barge has a rectangular flag flying at its
middle to show which area it comes from.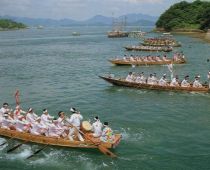 Photo
The Kaidenma Race reminds spectators of suigun (naval forces) (Photograph taken circa 1994)
Memo
Higashino-cho (present Osakikamijima-cho) is known for rich marine products, including prawns and abalone. On Ikuno Island, located north from Higashino-cho, there is a nature resort area with bathing places and campsites.
| | |
| --- | --- |
| Address | Osakikamijima-cho, Toyota-gun |
| Access | By train (Kure line), get off at Takehara Station; from Takehara Port, take a ferry and get off at Shiramizu (main race site). |