Ocho Mikan Mandarins
The islands in the Seto Inland Sea are known for their high terraced fields.
A variety of citrus fruits, including mikan (mandarin), hassaku, and navel
oranges, are grown in these terraced fields. However, all the hills of the islands
are covered with green mandarin trees.
Osaki Shimojima has been the leading production site of mandarins in
Hiroshima. Unshu mandarins were introduced to the island around 1890. A
mission from Ocho, Yutaka-machi visited Oita Prefecture to inspect the citrus
fruits there in 1902. They discovered a variety of rapidly growing mandarins in
Aoe Village, Amabe-gun (now Tsukumi City). They brought back shoots and
grafted them onto the native species to create the Ocho mandarin.
Since then, due to strenuous research on mandarins by growers, the Ocho area
has become the exclusive growing site for these rapid growth Unshu mandarins.
These mandarins were once shipped from Ocho Port to all parts of Japan in
wooden boxes typically labeled with a design of mandarins and the torii gate of
Miyajima Island. The Ocho mandarins have been popular among consumers as
the tasty, fastest appearing mandarins on the market.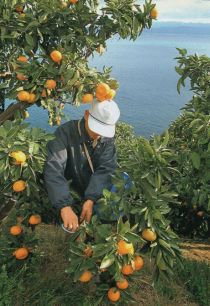 Photo
The mandarins of Ocho are renowned as high quality fruit (Photograph taken circa 1994)
Memo
| | |
| --- | --- |
| Address | Mitarai, Yutaka-machi, Kure City |
| Access | From Nigata Port, take the hydrofoil for Imabari and get off at Ocho Port. |