Chikurinji Temple
Chikurinji Temple stands at the top of Kochi-cho's Mount Takamura,which
is 535 meters high. According to the Chikurinji Temple Engi Emaki, which
explains the origin of the temple, in 730 a monk named Gyoki visited Takamura
Mountain and found a shining cherry tree. Gyoki sculpted the tree to make a
Senju-Kannon (a Buddha with one thousand hands for rescuing the suffering),
and built the Sakura Zanka Oji Temple, to store the Buddha.
Takamura Ono was born after his mother Yachiyo prayed for a baby in
Chikurinji Temple for one thousand nights in a row. Takamura, blessed by the
Buddha, went to Kyoto, then the capital city of Japan, when he grew up, and
became a high ranking official. The temple was later renamed the Chikurinji
Temple of Takamura Mountain.
The architecture of the Chikurinji Temple consists of: Hondo, (main hall),
which stores calligraphy dating from 1545, Goma-do (a place to pray), Juo-do,
Shoro (site of the temple bell), Hozo (treasure house) and Kuri (temple
residence). In the garden, there is a seven-story stone tower built in 1530, and
another stone tower built in 1514 as a place of repose for wandering souls.
A sitting statue of Jizo Bosatsu, a guardian deity of children, is stored in
Chikurinji Temple. The deity is one of the main guardians of Kenzobo, a
branch temple of Chikurinji Temple. The statue was built in 1338.
Other branches of Chikurinji Temple once included Onodera, Nankobo and
Manganji Temples in Nyuno and Kanroji Temple in Nakakochi. However,
most have turned to ruins in the course of history.
Currently, the top of Takamura Mountain is a prefectural nature park.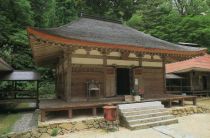 Photo
The formerly thatched roof of Chiknrinji Temple is now covered with kowadabuki (the bark of sawara trees) (Photograph taken circa 1994 )
Memo
In 1371, Ryosyun Imagawa travelled through the Geibi region from Onomichiura to Onoura, passing through Seno, Kaita, Itsukushima and Jigozen. He took a course closer to the coast than the official old Sanyo Road.
| | |
| --- | --- |
| Address | Nyuno, Kochi-cho, Higashihiroshima City |
| Access | 25-minutes by taxi from Nyuno Station (Sanyo line). |
| Map | Click here. |