Kamine Pass
Kamine Pass is located in Yachiyo-cho. Although this mountain pass begins
with a precipitous cliff, at the top is an extensive tableland. This type of
mountain pass, which suddenly reveals a commanding view at the top, is often
found in the Chugoku Mountain district, and is called an asymmetrical mountain
pass. Kamine Pass is located on the divide separating the watersheds of the
Inland Sea and the Japan Sea. The people of Mukaihara-cho called this place
nakiwakare, a point of parting in tears.
About 10,000 years ago, the Hino River, which flows to the Japan Sea,
encroached far southward into Kamine Pass. However, the Nenotani River,
which flows to the Inland Sea, eroded and eventually took over the upper
reaches of the Hino River. Therefore, until the by-pass was completed this
place was known and remembered as the most dangerous place on Route 54, the
old Izumo route, because the winding roads cut into the precipitous cliff caused
many car accidents.
Kamine Pass illustrates the progress of transportation in the region by
preserving four different roads. The first is a foot path from the Edo period; the
second, a narrow road used in the early Showa period; the third, a somewhat
wider road used in the mid-Showa era; and finally, the most recently built
Kamine Bypass.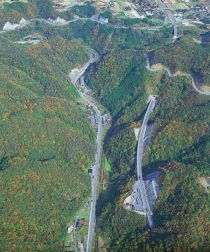 Photo
A stretch of bypass now takes the place of the dangerous old road at Kamine Pass (Photograph taken circa 1994)
Memo
In Yachiyo-cho, at the foot of Kamine Pass, Haji Dam blocks the Kawai River. There one can find the Haji Museum of Folklore, the Soro garden, a cycling road, the Osako Kofun (designated a historic site of Hiroshima Prefecture) and abundant Chinese Linden (designated a natural monument of Hiroshima Prefecture).
In Katsuta, located below Haji Dam, stands the grave of Takeichiro Yamagata, a leader of the Takeichi riot, which took place in the early Meiji period.
| | |
| --- | --- |
| Address | Yachiyo-cho, Akitakata City |
| Access | From Hiroshima Bus Center, take a bus bound for Yoshida,and get off at Kamine Toge; a 2-minute walk. |