The Remains of Koriyama Castle
The Mori Clan originally came to the Yoshida area from Sagami Province
(now Kanagawa Prefecture) in 1336. Having survived the war-torn years of
Nanbokucho (14th century), they kept expanding their territories. Finally in the
16th century, Motonari Mori (1497-1571) defeated both the Ouchi Clan of Suo
Province and the Amako Clan of Izumo Province, and conquered the Chugoku
district. In 1600, however, the Mori Clan lost the Battle of Sekigahara, and
were forced into the provinces of Suo and Nagato.
In 1591, a new castle was built in Hiroshima City by Terumoto Mori, and the
clan moved there. Until then, Koriyama Castle had been the center for the
Mori Clan's activities.
The original main castle, Yoshida Castle, was built at the southeastern ridge
of Koriyama Mountain. By the time Motonari and his army defended themselves
against Amako's army in the Battle of Koriyama (1540), the castle, properties
covered the entire mountain.
The castle was repaired and rebuilt as the clan became more influential. By
the time the castle was moved to Hiroshima City, it had become quite advanced
for a medieval mountain castle, with complex inner and outer stone walls, a
quadrangle and a stone-walled fort. It was the most important governing center
for the clan. Besides Koriyama Castle, there are more than thirty castle-related
remains in the Yoshida area. Among them, Suzuo Castle, Tajihi Sarugake
Castle and Aoyama Castle are noteworthy.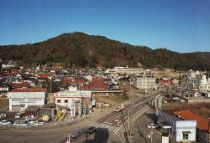 Photo
A view of the Mori Clan's main castle site (Photograph taken circa 1994)
Memo
Some old streets in Yoshida-cho are named "such-and-such nawate (straight lane)" or "such-and-such shoji (narrow street)". These are left over from castle town sectioning in the late medieval era. The sectioning was based on an ancient town planning system. References to the system can be found in the record of the Amako Clan's attack on the Mori Clan in 1540, and also in rules issued by Terumoto in 1588. Through recent research, excavations of ditches and buildings from the medieval era have been discovered.
| | |
| --- | --- |
| Address | Yoshida, Yoshida-cho, Akitakata City |
| Access | From Hiroshima Bus Center, take a bus bound for Miyoshi and get off at Yoshida Eigyosho; a 10-minute walk. |
| Map | Click here. |