Sandankyo Valley
Geihantsushi describes Sandankyo Falls as follows: "It crashes into large
rocks splashing water high into the air. This is the source of the Ota River with
dashing torrents." About the Sandan Taki (triple-stepped falls) it says, "There
is no access to the site to view the grandeur."
The beauty of Sandankyo remained unknown for a long time, until photographer Nanpo Kuma of Hiroshima City discovered its value and introduced it to the
public in about 1910. The Shibaki River, a tributary to the Ota River, flows
through mountain masses between fault valleys to form a large number of falls and
rapids extending over 16 kilometers, which is called Sandankyo. Nanpo Kuma's
efforts succeeded in obtaining for the area the designation as a national place of
scenic beauty in 1925 and as a national special place of scenic beauty in 1953.
The railway was finally completed from Kake-cho to the entrance of Sandankyo
in 1969. In front of Togochi Station, one stop before Sandankyo Station, a
monument was erected to the memory of the great achievements of Nanpo
Kuma.
Water runs from Tarutoko Dam (Hijiri Lake), completed in I966, toward the
largest fall, Sandan Taki, about 20 meters high, through Mitsudaki Falls
directly below the dam. A valley, in some places narrowing to a minimum of
two meters between walls some ten meters high, is called "Sarutobi"; a cliff
rising 100 meters high is called "Kurobuchi." The splendor of the seasonal
views, including the fresh green of summer and scarlet-tinged leaves of autumn,
really refresh visitors' souls.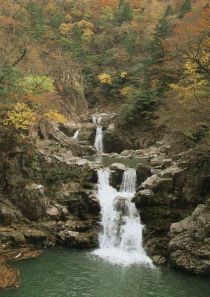 Photo
Sandan Taki, the principle part of Sandankyo (Photograph taken circa 1994)
Memo
Tochimochi, one of the souvenirs of Sandankyo, is made as follows: In autumn, collect the buck-eye seeds which have fallen from large buck-eye trees. After drying and peeling them, pound them with a wooden mallet. Soak them in lye to remove the harshness. Mix them with rice and steam the mixture. Then, pound them in a mortar to make fragrant rice cakes.
| | |
| --- | --- |
| Address | Akiota-cho, Yamagata-gun |
| Access | Take a bus bound for Sandankyo from Hiroshima Bus Center and get off at the last stop and take two and a half hours walk (April-November). |
| Map | Click here. |