Kangensai (court music festival)
The annual Kangensai Festival reproduces a dynastic spectacle of the Heian
period on June 17th of the lunar calendar, and has become the greatest event of
Itsukushima Shrine. It is believed that, because of his deep admiration for
Itsukushima, Kiyomori Taira introduced aristocratic entertainment, court
music performed on boats, from the Heian and Nara periods there and started
the annual festival.
The Goza-bune (Goza Boat), where the gods sit, are made from three
Japanese boats with temporary roofs on the top. Highly valued swords and
pike decorate the bow, and a sacred mirror stands at the stern, with dozens of
chochin (lights) decorating the boat. In the evening the Goza Boat departs
through the glowing vermilion Otorii Gate for Jigozen, a town across the sea,
following three small boats rowed by youngsters of Eba, Hiroshima City and
Aga, Kure City. On the way bonfires are lit in unison on the boats. When the
boat from Sotomiya of the Jigozen Shrine welcomes the Goza Boat and guides
it to their shrine's gate, the people on the Goza Boat play Gagaku music of the
Heian period with three types of instrument: wind, string and drum. After
visiting Jigozen Shrine, the Goza Boat travels farther to the Nagahama and
Omoto Shrines and then returns home.
Many fishing boats from other regions gather with their large haul flags. The
din and bustling of the festival is often referred to as "one thousand boat
attendants (of the Goza Boat)".Many places in Hiroshima Prefecture have
similar events.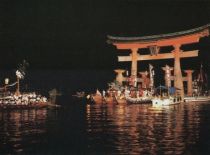 Photo
Goza Boats return to Otorii Gate led by pilot boats (Photograph taken circa 1994)
Memo
Ichikishima-hime, the main goddess of Itsukushima Shrine, was also called "Ichi-hime" or "Ichi-gami" and has been worshipped for centuries as a guardian of the market. Miyajima, the town built around Itsukushima Shrine, was always crowded on market days throughout the year. In the old days, play performances were so popular that people said performers could not become decent actors or actresses unless they were approved in the Miyajima market.
| | |
| --- | --- |
| Address | Miyajima-cho, Hatsukaichi City |
| Access | Get off the train at Miyajimaguchi Station (Sanyo line) or take a streetcar bound for Miyajima and get off at Miyajimaguchi. Take a ferry, about 10-minutes. |