Itsukushima Island
In ancient animism, the entire island was considered an embodiment of a
deity and, thus, was an object of people's faith. In time, people started to call
the island "Itsuki-shima" (an island where goddesses reside, or another
connotation means sacred island, which is the origin of the name, Itsukushima).
According to the record of Itsukushima Shrine, the goddesses of Itsukushima
descended from heaven in 593. The present shrine's "Shinden" style architecture,
which is characteristic of Heian nobility houses, was decided on when Kiyomori
Taira aided in the construction late in the Heian period. Beyond the torii, lies the
shrine's complex form with a long cloister which connects the central complex
(the hitasaki, for bonfires; hira-butai and taka-butai, stages; harai-den,
purification; haiden, chapel; honden, main shrine; and Akezu no mon Gate) with
the east complex (shoden, tourist entrance; Maroudo Shrine; Asazaya and the
Agemizu Bridge) and the west complex (the Ten Shrine; Daikoku Shrine;
Nagahashi Bridge, Sorihashi Bridge, and Noh stage). Most buildings are
designated as national treasures and important cultural properties.
With Misen Mountain and the deep-green background, the vermilion shrine
and cloister, seemingly floating on the sea, offer a vivid recollection of the
historic spectacle of life in the Heian period. Furthermore, the Five-story
Pagoda, Senjokaku (thousand tatami mat hall), Daishoin Temple and Tahoto
pagoda stand in the background, reinforcing the historic atmosphere.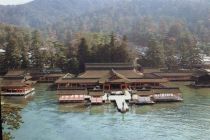 Photo
Itsukushima Shrine standing in the water, the island of sanctuary (Photograph taken circa 1994)
Memo
Itsukushima Shrine inherited various cultural treasures, including the "HeikeNokyo" (a sutra offered by the Taira family, which is one of the most valuable national treasures), the ancient gods' jewels, Yoroi armor, swords, masks and musical instruments for Noh plays and dresses for Noh and Kyogen performances. The treasure house and storehouses of Itsukushima Shrine hold all these cultural properties, a portion of which are put on view for the public from time to time.
| | |
| --- | --- |
| Address | Miyajima-cho, Hatsukaichi City |
| Access | Take a train and get off at Miyajimaguchi Station (Sanyo line) or take a streetcar bound for Miyajima and get off at Miyajimaguchi; then take a ferry for about 10-minutes and a 15-minute walk from the pier. |
| Map | Click here. |