Kenmin no Hama (Hiroshima citizens' beach) and Koi Wan (lover's bay)
Kamikamagari Island is gaining popularity for its squid fishery and the
beautiful Kenmin no Hama.
Koi Wan and Koigahama are located in Oura, on the west side of
Kamikamagari Island, where many people camp in the summer. Koigahama was
named after a woman who came there from a distant region. Missing her home
badly, she cried every night and lamented how much she loved and missed her
home.
Koi Wan is also known as a squid fishery spot and many tourists visit there
from spring till early summer. In a unique Kamagari way, fishermen catch
squid by manipulating baskets with a boxwood branch in them, which lures
breeding squid in. Visitors from Hiroshima and the Osaka region come to taste
the freshly caught squid, cooked right on the spot on the shore.
Two kilometers from Koigahama stands Monomi Rock. The rock is so tall
that it is said that people in old times climbed it to observe enemies and send
signal fires to allies. Monomi Bridge commands a view of Koi Wan and the
Ishizuchi Mountain ranges of Shikoku Island. The sight of fires carried by
boat-after-boat luring fish at night is simply fascinating.
Kenmin no Hama is located 500 meters from Koigahama. The beach is
equipped with lodgings, study facilities, a gymnasium with a swimming pool, eight
tennis courts, an astronomical observatory housing a telescope with
a 200-millimeter lens,and facilities for visitors to participate in seaweed-product
production (moshio-zukuri).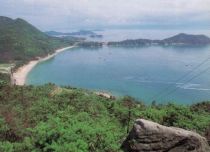 Photo
Large resort: Kenmin no Hama and Koi Wan (front) (Photograph taken circa 1994)
Memo
Along with the astronomical observatory, there is also a museum for handicrafts of the sea and islands, which provides an attractive learning place for children. The museum exhibits folk crafts and toys that embody life on Kamikamagari Island. The Kamagari Bridge links Shimokamagari Island and Kamikamagari Island.
Address
Oura Kamagari-cho, Kure City
Access
Take a bus bound for Kamagari from Hiroshima Bus Center and get off at Oura; take a bus bound for Kenmin no Hama and get off at Koigahama.
Map
Click here. (Kenmin no Hama)
Click here. (Koi Wan)