Katsuragahama Beach
In 1944, upon confirmation that Katsuragahama Beach was the place from
which Japanese envoys were dispatched in 736 to Shiragi on the Korean
peninsula, Hiroshima Prefecture designated it as a historic site. The dispatch
was described in the earliest extant collection of Japanese poetry, Manyoshu,
edited in the 8th century.
The area designated as the historic site contains one hectare of land with a
beautiful landscape. The beauty of the clean beach with 500 pine trees along the
shore motivated one poet to compose a short poem, "I will devote my life to
pine trees on the shore of Nagato Island (now Kurahashi Island). How many
generations it took to become such a divine entity, I wonder."
In the historic site are located a monument inscribed with the poem from the
Manyoshu, a monument to mozuku (a seaweed which people thanked for easing
hunger during World War II), and Otorii (the Katsuragahama Shrine gate).
Nearby, a dock of Western architectural style was built between 1801 and
1804, the oldest of its kind in Japan. The boat used by the Japanese envoy to
China during the Tang Dynasty (618-907) was reproduced there for exhibition at
Sea & Islands Expo, Hiroshima 1989. This boat is now displayed in the Nagato
Museum For Shipbuilding History, which opened in 1992.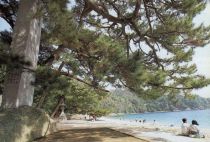 Photo
A beautiful view since ancient times, with the white sand beach and a green pine tree (Photograph taken circa 1994)
Memo
Judging from the name "Nagato Island" in the records of Yatsurugi Shrine in 1480 and existing places called Nagato-zaki and Nagato-guchi on Kurahashi Island, which is supposed to have been copied and transformed from its original name, Nagato, Kurahashi Island must have been called Nagato in the past.
From ancient times, this island was famous for its shipbuilding. Historic records show that the people of Kurahashi made ships used by the Japanese envoys who traveled overseas during Emperor Suiko's reign (554-628) and throughout the Nara period.
Address
Kurahashi-cho, Kure City
Access
Take a bus bound for Kurahashijima Muroo From Kure Station and get off at Katsuraga-hama. Takes about 1-hour and 10-minutes.
Car: From Kure take Highway 487 towards Kurahashi, and approximately 45-minutes travel.
Map
Click here.