Brushes
Kumano produces the largest number of brushes in Japan, including brushes
for writing, painting and cosmetics. More than three thousand people are
engaged in brush production.
The beginning of brush production in Kumano dates back to 1619 when
farmers left the Kumano area to find other work during the off season.
When the farmers returned home, due to the arrival of rice planting season,
they bought many writing brushes and ink from the Nara region and made
profits by selling them on the way back home. These farmers came up with the
idea of producing and marketing writing brushes of their own. They introduced
the first brush industry in Kumano.
Starting in the 1840s the Kumano brush makers selected and combined
superior aspects of the brush making techniques of other prefectures to establish
their uniquely Kumano method of making brushes.
Kawajiri is also famous for its brush production, which started in 1835. In 1850
they learned the Izumo style. Later they added the Kumano style, developing the
unique Kawajiri brush style.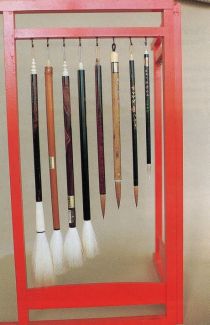 Photo
Kumano Brushes - the largest amount of brush production in Japan (Photograph taken circa 1994)
Memo
To thank used brushes and to wish for prosperity, Sakakiyama Shrine of Kumano has held a brush festival annually since 1935. In September, 1965, a grave for brushes was built along the main road leading to the shrine. In Kumano-cho, there is a monument to commemorate the founders of the Kumano brush industry and Fudenosato Kobo (a museum for the history of brushes).
Kawajiri is responsible for 20 of the total brush production inJapan. In 1967, the brush enterprise cooperation of Kawajiri was established. Later in August, 1971, a grave for brushes was erected on top of nearby Mt. Noro. A brush making museum was opened in 1984, exhibiting all the materials and records regarding Kawajiri brush making.
| | |
| --- | --- |
| Address | Kumano-cho, Aki-gun and Kawajiri-cho, Kure City |
| Access | To Kumano, take a bus bound for Kumano from Hiroshima Bus Center. To Kawajiri, take a train (Kure line) and get off at Kawajiri Station. |