The Brewing Industry and Red-tile-roofed Houses in the Saijo Basin
Saijo in Higashi Hiroshima City represents one of the three major production
sites of sake, Japanese rice wine, in western Japan. Characteristics of the
brewing method in Saijo include using soft water containing few minerals and
well-polished rice specifically processed for brewing. This Saijo method allows
the alcohol to be full bodied; thus it is often called mezake, a feminine sake. In
winter, when brewing begins, a special sweet smell comes out of the white
walled sake cellars.
On the east side of Saijo Station, there are many white walled sake cellars,
giving the street a uniquely Saijo feature.
Since the Meiji era, Saijo sake has rapidly gained in popularity.
In the Saijo Basin, the farmers' relatively large houses with red tile roofs,
which lie scattered in villages, are a marked contrast to the black tile roofs of
coastal areas. The tiles, called sekishu gawara, act as insulation against the
cold. The red color complements the greens of the Japanese cedars and rice
fields remarkably well, all of which shape the unique beauty of the Saijo Basin.
In winter when the entire basin is buried in deep snow, the red roofs bring the
residents a sense of warmth.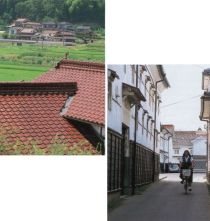 Photo
[Left]Red roof tiles suit the Saijo Basin (Photograph taken circa 1994)
[Lower right]Sake cellars line the street corner (Photograph taken circa 1994)
Memo
Higashi Hiroshima City once prospered as a market center for neighboring towns, a rest station for travellers along the Sanyo Road, an important traffic way which linked the nation's major cities since the old days, and was also a center in Kamo-gun and held the district's public office. Today, it is evolving into a city of high-tech industry and a university town as Hiroshima and Kinki Universities have moved to Higashi Hiroshima City.
Nearby the new Hiroshima International Airport opened in 1993.
| | |
| --- | --- |
| Address | Saijo, Higashi Hiroshima City |
| Access | Take a train (Sanyo line) to Saijo. |