Handmade Japanese Paper, Carp Streamers and Paper Doll Floating
The first record of Otake handmade Japanese paper appeared in the medieval
era. Since then and throughout modern times, the handmade paper industry of
Otake has flourished, owing much of its success to the city's easy access to
water from the nearby Kono River. In 1700, there was a paper union (kamiza).
In 1819, 2,731 people were engaged in paper production in Otake City. During
the Meiji era, household producers and wholesalers supported an upswing of the
paper industry, and at the peak of their prosperity in 1919, one thousand
families were said to have been producing handmade paper.
The product, Konogawa paper, attracted customers from the Tokyo, Keihan
and Kyushu areas. With the emergence of machine tools and larger factories
at the end of the Meiji era, modern technology gradually made handmade paper
production obsolete. Today, only one family in the Boroku area has continued
with the old production techniques.
The production of carp streamers made of Otake paper started before World
War II, and reached a peak in 1952-1953. Plastic carp streamers, Which
appeared around 1965, have gradually replaced the Otake carp streamers and
forced them to survive only as a folk craft.
Each year on the Sunday following Hinamatsuri (girl's festival) on March 3,
the people of Otake have an event where little girls set paper dolls on straw
boats and float them on the Kono River. The wishes that are usually enshrined
in the practice are those to exorcise evil spirits or to bring good luck to the little
girls in their choice of husbands.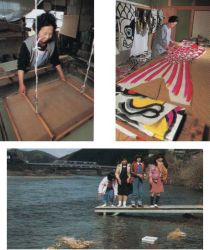 Photo
[Upper left]The traditional handmade Japanese paper technique is still used in the Boro-ku area (Photograph taken circa 1994)
[Upper right]Carp streamers made of Otake paper (Photograph taken circa 1994)
[Lower]Girls floating paper dolls on straw boats, while they wish for good luck (Photograph taken circa 1994)
Memo
Otake's industry of handmade Japanese paper gradually evolved into a factory which produced Western style paper and turned to textile production ln the Showa era.
After 1954, Otake City succeeded in introducing the petrochemical, chemical fiber and pulp industries, making Otake a large industrial area.
| | |
| --- | --- |
| Address | Oze River (Kono River) |
| Access | Take a train (Sanyo line) to Otake Station; then take a bus bound for Ayutani and get off at Nakatsuhara. |