Irifuneyama Hill
Irifuneyama Hill, covered with green pine and camphor trees, is located one
kilometer from Kure Station.
Irifuneyama Hill is home of the Kameyama Hachiman Shrine, which is said
to have been the first place that one of Kure's special products, igamochi (rice
cake), was sold. The hill has now become a park with an art museum and the
Irifuneyama Memorial Museum.
In 1886, when a marine base was established there, a Naval Station was built
for military conferences, along with a Naval Club for marine officers. It later
became the Admiralty House.
After an earthquake ruined the building in 1905, it was rebuilt as a wooden,
one-story house in Western style. It continued use as a residence of the
commander-in-chief until the end of World War II. Citizens called the hill
Chokan-yama, the commander's mountain.
The architectural style of the building has the rare quality of Western tastes
in the Meiji era and Hiroshima Prefecture has designated it as an important
cultural property. The Irifuneyama Memorial Museum exhibits military
records and materials of the old Japanese navy, showing us the prosperity and
final collapse of the imperial force.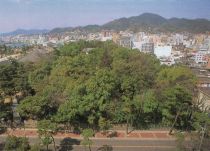 Photo
Official residences of all the past regional commander-in-chiefs were located on Irifuneyama Hill (Photograph taken circa 1994)
Memo
There is a clock tower in Irifuneyama Park which was used in a naval dockyard during the war. As if it is determined to witness history, the clock is still ticking.
According to the Geihantsushi, Kameyama Hachiman Shrine has stood on Irifuneyama Hill since 703. In those days the shrine was always so bustling that people called it a "human festival". The atmosphere does not seem to have changed much from the old days.
| | |
| --- | --- |
| Address | Saiwai-cho, Kure City |
| Access | Take a train (Kure line) to Kure Station and a 10-minute walk. |