Ondo no Seto Waterway
Ondo no Seto is a waterway that links Kure Bay and Akinada, an open sea.
At the narrowest point of the waterway, two mountains sandwich the waterway,
allowing vessels only eighty meters to pass through. Natural tidal currents flow
fast, at a rate of ten kilometers per hour. Passenger ships, cargo boats and fishing
vessels often travel from Hiroshima and Kure to the Geiyo Islands, Matsuyama.
In 1961, the Ondo Bridge was built over the narrowest point of the waterway.
The history of the Ondo no Seto waterway dates back to the end of the Heian
period. Kiyomori Taira (1118-1181), who was promoted from administrator of
the Aki Province to Dajo Daijin, grand minister of state, fiercely believed in the
goddesses of Itsukushima and is said to have thus constructed the Ondo no Seto
waterway. Accurate records supporting this legend cannot be found, but the
Taira family recognized the importance of Sino-Japan trade and were striving
for the development of watercourse port facilities (Kobe Port) in the Inland Sea.
Furthermore, the entire Ondo no Seto area was an important center of traffic
for Aki Province and Itsukushima Island. In addition, Ondo no Seto was a
manor, called Amano-sho, of Itsukushima Island, with which Kiyomori had a
strong tie. This Kiyomori legend had already appeared in the Muromachi
period.
The Kiyomori-zuka, a tower built in the Muromachi period to commemorate
Kiyomori, still stands on a rock in the sea on the west side of the Ondo no Seto
waterway.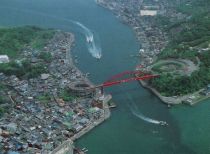 Photo
One after another, ships pass through the narrow strait (Photograph taken circa 1994)
Memo
The Heike Story is one of the best writings by Eiji Yoshikawa (1892-1962), who developed a distinctively new horizon in Japanese popular novels. Yoshikawa wrote this full-length novel of the Taira family based on history, with a touch of imagination. Yoshikawa visited Ondo no Seto, climbed the hill which commanded the entire view of the waterway and composed a short poem, "You, sense the time. What is now, what was then?" This short poem is inscribed on a triangular stone situated on the top of the hill.
| | |
| --- | --- |
| Address | Iwashihama, Ondo-cho, Kure City |
| Access | Take a train (Kure line) to Kure Station, and take a bus bound for Ondo no Seto and get off at the last stop, or take a bus bound for Kurahashi and get off at Ondo. |
| Map | Click here. |