Atomic Bomb(A-bomb) Literature
On August 6, 1945, Hiroshima became the first city in the world to be
destroyed by an A-bomb. As a result, the city inspired many Japanese authors
to produce works based on the incident in many literary forms. Quite a few
authors were hibakusha (A-bomb survivors). These literary works are generally
called "A-bomb literature". At the core of every work is the wish for eternal
world peace and dignity in life.
Following are some of the works by hibakusha authors: Summer Flowers by
Tamiki Hara, City of Corpses by Yoko Ota, Poems of the Atomic Bomb by
Sankichi Toge, Sange (collection of tanka) by Shinoe Shoda, Black Egg by
Sadako Kurihara, Kokuu by Hisao Saeki and Natsu no Kokuin by Hitoshi
Kokubo. Also, Kangensai was written by another hibakusha author, Hiroko
Takenishi, more than 30 years after the A-bombing.
Major works by other authors include Haru no Shiro by Hiroyuki Agawa,
Shinban by Yoshie Hotta and Black Rain by Masuji Ibuse. Among them, Black
Rain is most highly regarded as an A-bomb work. Based on hibakusha diaries,
it depicts the day the bomb hit the city.
There are numerous documentaries on the A-bomb and Hiroshima. Children
of the Atomic Bomb, edited by Professor Arata Osada of Hiroshima University,
is a collection of A-bomb related experiences by 186 students from elementary
schools to universities. It has been used as excellent peace education material.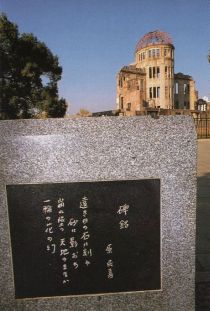 Photo
The epitaph of Tamiki Hara (Photograph taken circa 1994)
Memo
Summer Flowers by Tamiki Hara was the first A-bomb work to be published. Publication of early A-bomb works was often delayed due to censorship by GHQ (General Headquarters). Original works by Yoko Ota and Sadako Kurihara were censored, or portions were deleted by the authors themselves in order to get them published. Shinoe Shoda was obliged to publish her books privately in order to avoid censorship.
| | |
| --- | --- |
| Address | Otemachi, Naka-ku, Hiroshima City |
| Access | From Hiroshima Station take any streetcar except No. 5 and get off at Genbaku Dome mae. |