Memorial Cathedral for World Peace
The Memorial Cathedral for World Peace, renowned as one of the major
Catholic cathedrals in the Orient, was built in commemoration of the first
A-bomb victims in the world. The foundation of the cathedral was originally
requested by the German Reverend Hugo Lassalle, whose naturalized Japanese
name is Makibi Enomiya. He himself was wounded by the A-bomb. About 100
million yen has been donated by Catholics and other people from all over the
world. The cathedral was founded on August 6, 1954. The massive, refined
building was designed by Togo Murano, a luminary of modern Japanese
architecture. In connection with the number of A-bomb related victims, some
240,000 bricks made of clay at the bomb site were used to build the cathedral,
which projects an image of a monastery in the Middle Ages. Mr. Murano
masterly reconciled Western classical architecture with Japanese traditional
style to design the cathedral, for example the dome with a Chinese phoenix and
the stained glass with designs of pine, bamboo and plum flowers.
The 45-meter tower of the cathedral has Peace Bells donated from Germany.
The bells, made of steel from weapons used during World War II, are inscribed,
"The arms of war now sound the call to peace". To memorialize the A-bomb
victims and pray for peace, 17 elements of equipment for the church have been
specially donated from six countries.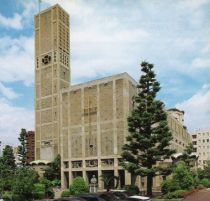 Photo
The cathedral was built commemorating the A-bomb victims (Photograph taken circa 1994)
Memo
Donations to the cathedral include four Peace Bells of different sizes, the mosaic "The Second Coming of Christ" (from former German Chancellor K.Adenauer), the pipe organ with 3,600 pipes, the carving "The Way of the Cross", the front bronze doors (all from Germany), the main altar of black marble (from Belgium), the tabernacle (from Spain), and the stained glass (from Austria, Portugal and Mexico).
Address
4-29, Nobori-Cho, Naka-ku, Hiroshima City
Access
From Hiroshima Station take any streetcar except No.5, and get off at Kanayama-cho;
a 5-minute walk north.
Map
Click here.