Hiroshima Castle and Shukkeien Garden
Hiroshima City was originally a castle town. Having united nine provinces
in the Chugoku district, the Mori Clan were the great lords based at Koriyama
Castle in Yoshida, Takata-gun. In 1589, Terumoto Mori decided to build a new
castle on the lower delta of the Ota River. He moved into this castle in 1591.
Later the Moris left the castle for Bocho, which is now Yamaguchi Prefecture.
Masanori Fukushima then succeeded to the castle in 1601. In 1619, Nagaakira
Asano was assigned to reside at the castle. His clan remained there until early
in the Meiji era.
Most of the structures were taken down during the Meiji Restoration, leaving
only the donjon, the main gate and the turret, which were later destroyed by the
A-bomb. The present donjon was rebuilt after World War II.
Shukkeien Garden was constructed as the garden of the Asano Clan's second
house in 1620. It was designed by Soko Ueda, who was the karo, or senior
retainer, for the Asanos. The garden was modeled after Seiko Lake, Xi Hu in
China, and Ueda tried to capture the image of a city in the landscape of
mountains and river, with a touch of deep valleys in miniature form for the
circular garden. In 1940, the garden was opened to the public. After the
A-bomb exploded over Hiroshima, large numbers of wounded citizens fled into
the garden and died there. The beautiful landscape of the garden itself could
not escape the devastation of the bomb. Fortunately, it is almost fully restored
now.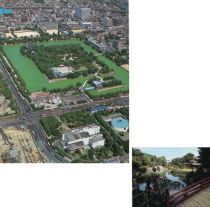 Photo
[Left]Hiroshima Castle (Photograph taken circa 1994)
[Lower right]Shukkeien Garden (Photograph taken circa 1994)

Memo
Before Hiroshima Castle was built, the Ota River delta was divided into Kajizuka-sho, Hiratsuka-sho, Zaima-sho, Hirose-sho and Hakoshima-sho, and hence called Goka-sho, or the five shos. Zaima-sho, the largest, was chosen for the site of the castle and named "Hiroshima". It is believed that the first character, Hiro, came from the name of Terumoto Mori's ancestor, Hiromoto Oeno, and that the second character, Shima, came from the name of Fukushima Yamato no Kami Motonaga, who is noted for selecting the castle site. Hiroshima Castle is also called Rijo Castle (the castle of carp).
Address
Hiroshima Castle: Moto-machi, Naka-ku, Hiroshima City
Shukkeien Garden: Kaminobori-cho, Naka-ku, Hiroshima City
Access
Hiroshima Castle: Take any streetcar except No.5 from Hiroshima Station and get off at Kamiya-cho; a 10-minute walk from there.
Shukkeien Garden: A 15-minute walk from Hiroshima Station.
Map
Click here. (Hiroshima Castle)
Click here. (Shukkeien Garden)